---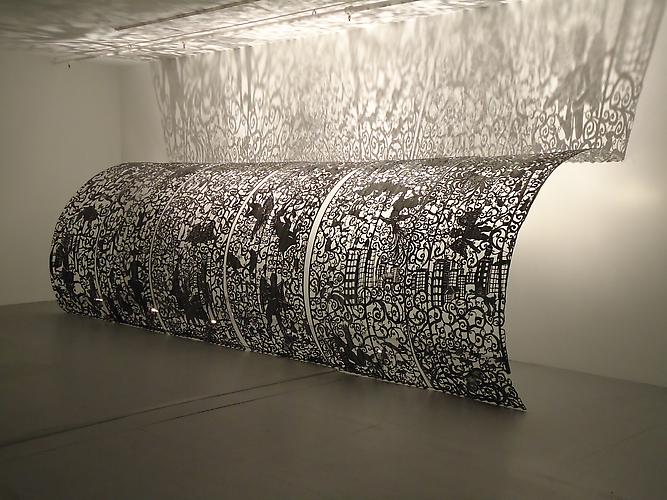 ---
Cal Lane
Artist's Website
2011: Ammunition
Lane has always been interested in embracing the very thing that repels her in order to understand it. She works as a visual devil's advocate, using contradiction as a vehicle for finding her way to an empathetic image, an image of opposition that creates a balance - as well as a clash - by comparing and contrasting ideas and materials. This manifested in a series of "Industrial Doilies", pulling together industrial and domestic life as well as opposing relationships of strong and delicate, masculine and feminine, practical and frivolity, ornament and function. There is also a secondary relationship being explored here, of lace used in religious ceremonies as in weddings, christenings and funerals.
Her new work has become more political, the consequence of living in a time of war and feeling the guilt of a bystander. With the first political piece titled "Filigree Car Bombing" she focused on creating a tasteless relationship of images of flowers and "prettiness" in the form of a violent and sensitive situation. The crushed steel of the car is cut into fine lace creating a drapery of disruption and sadness, a conflict of attraction to fancy work and the attraction to a horrific image.
Cal Lane (1968) was born in Halifax, Nova Scotia, grew up in Saanichton, British Columbia. She received her B.F.A in Painting from Victoria College of Art, Victoria, British Columbia (1994). She went on to earn a second B.F.A. in Sculpture from Nova Scotia College of Art and Design (2000) and completed her M.F.A in Sculpture from State University of New York (2004). Most recently, her works have been featured in the 2012 Sidney Biennale and NADA Hudson 2012, and at the Pelham Art Center in Pelham, NY. As well she has exhibited at the Musee d'art contemporain des Laurentides in Saint-Jerome, Quebec , the Musea Brugge in Belgium and at the Socrates Sculpture Park in New York City. She has had solo exhibitions of her work at Benrimon Contemporary in New York City and at Art Mur in Montreal, Canada. Lane most recently had a solo exhibition at Cirque de Soleil International Headquarters located at 8400 2nd Avenue in Montreal and currently has an installation on view now at the University of Albany through 2015. The New York City MTA has commissioned Lane to do a permanent installation of her work at the subway station on Knickerbocker Avenue in October of this year. As well, she has an upcoming presentation of her work for Nuit Blanche in Toronto. Her work, Gutter Sniper, will be on view at the Harbor Front Center, Toronto simultaneously in October 2013. Lane lives and works in Putnam Valley, NY.