---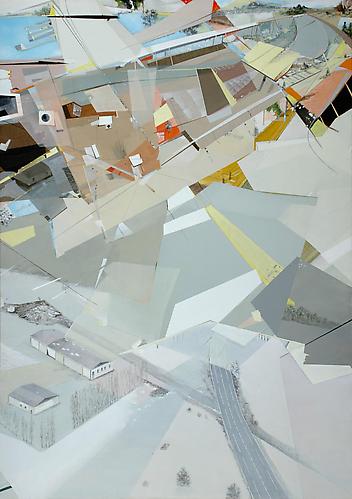 ---
Press Release
PULSE - New York 2012
Booth B-5
May 3 - 6, 2012
Benrimon Contemporary is pleased to announce its participation in PULSE NY 2012, featuring works by a selection of gallery artists.
Historical landscape paintings call to mind bucolic yet contrived scenes where every tree, rock and cloud appear carefully placed to capture a pastoral moment in time. This curated booth challenges the notion of classical landscape art, exposing the unseen and forgotten, forcing the viewer to reconsider what defines this pillar of art history through a contemporary lens.
These ideas will be further explored through the works of gallery artists Shay Kun and Christopher Mir. Simon Patterson's "Landskip" photographs are simultaneously a homage to and a critique of the tradition of landscape painting. Dimitri Kozyrev's paintings comment on man's mental and physical impact on the environment and Trey Speegle's playful pieces re-invent the landscape through a paint-by-number context. The booth will also be displaying works by Changha Hwang and Alastair Levy.
PULSE NEW YORK
The Metropolitan Pavilion
125 West 18th Street
Between 6th and 7th Avenues
Thursday May 3 9-noon Press and VIP Preview
Thursday noon-8pm
Friday May 4 9-10am Private VIP Hour
Friday 10am—8pm
Saturday May 5 12pm-8pm
Sunday May 6 12pm-5pm